Made in the USA—Sweatshop Free
rsa642ymw
Unisex Me + You Sheer Jersey T-Shirt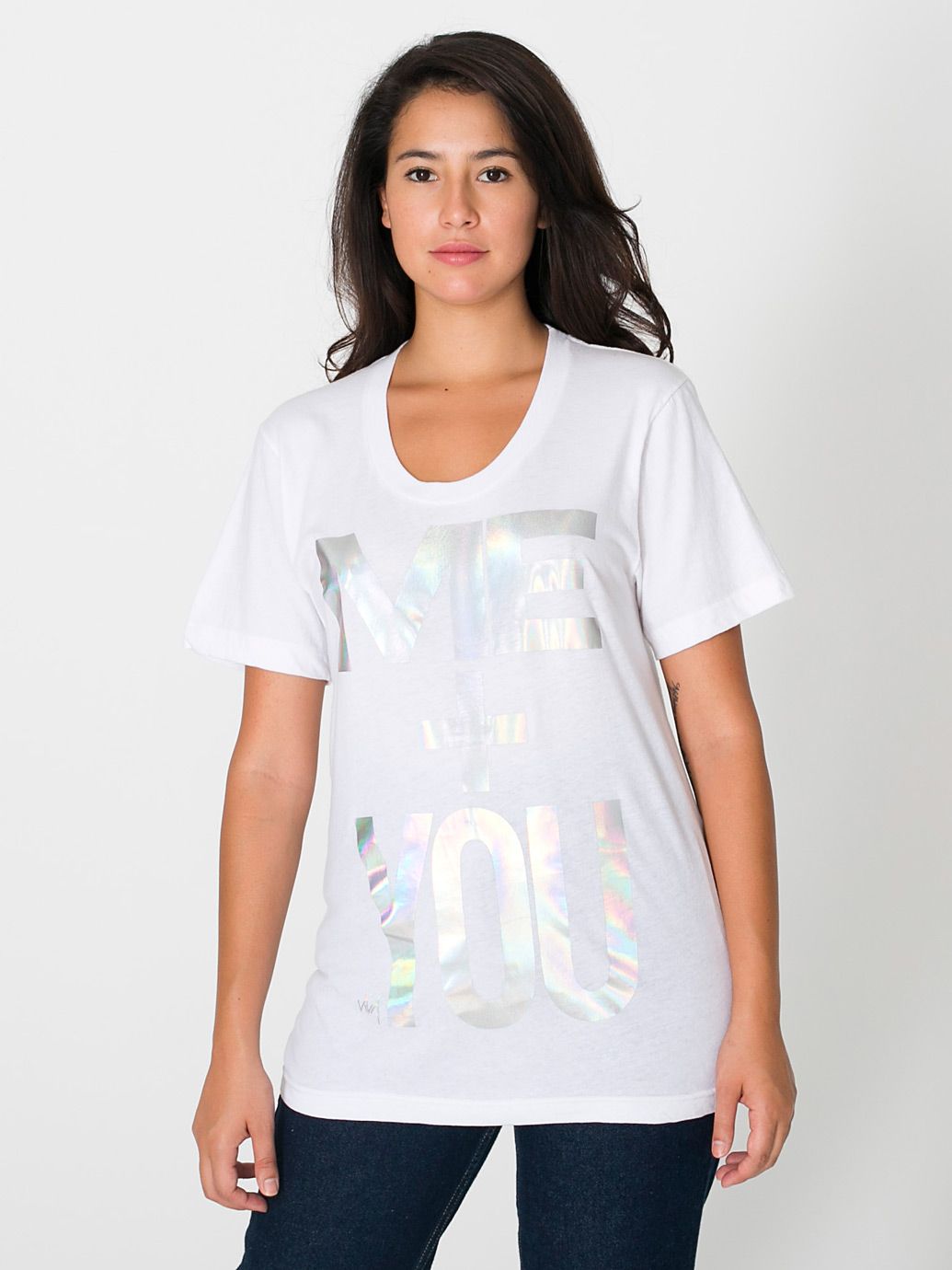 rsa642ymw
Unisex Me + You Sheer Jersey T-Shirt
Free Shipping for Orders $50.00 and Over, and on Returns*
All sales of this item are final. No returns or exchanges.
The Best of Me + You: Vol. 1 Booklet compiles over 50 exclusive interviews and songs recorded at the Viva Radio's Brooklyn studios. Hosted by the inimitable Tedward, Me + You gives listeners an intimate and whimsical look at artists that both shy from the spotlight and swarm to it like white on rice.

The Best of Me + You album features true-blooded American rock singer & composer Andrew W.K., French electronic minimalist/sex enthusiast Sébastien Tellier, DIG darlings The Dandy Warhols, brother-sister concept artists The Fiery Furnaces, drone and ambient duo Growing, Memphis rock n' roller Jay Reatard, Columbus Ohio low fi purveyors Times New Viking, legendary punk pioneers The Homosexuals, new school punk torch bearers The Black Lips, Brooklyn frenzied instrumentalists Fiasco and many more!

These tracks have been exclusively recorded for the compilation at Viva Radio's studios:

Tyvek - Air Conditioner
The Black Lips - Lock and Key
Sebastien Tellier -Divine (Live in LA)
Love as Laughter - Konny and Jim
Dark Meat - Dead Man
Andrew W.K. - Hoboken Toffee
King Khan - Desert Mile
Dez Mona - Jack's Hat
The Fiery Furnaces - Pricked in the Heart
Growing - Green Flag
Earles & Jensen - Newline Cinema's Mom Hits the Stores (Capitol Hill, Seattle)
Mike Bones - Today the World is Worthy of My Loathing
The Teenagers - You got roofied! (Interview)
Jon Glaser - Jim Leyland's Coach's Corner
Fiasco - You Can Walk the Walk, But Can You Drive the Car? (Acapella)
Christy & Emily - Birds
Tilly & the Wall - Beat Control
The Dandy Warhols - So, you're a 90s band, right? (Interview)
Jennifer O'Connor - Always In Your Mind
Amazing Baby - Sucker Blues
Jay Reatard - Jay is living the American Dream (Interview)
Japanese Motors - Better Trends
The Homosexuals - Pink Pony (3AM)
Deer Tick - Spend the Night
Times New Viking - Drop Out


• 100% Sheer Jersey cotton construction • Durable rib neckband • Fits slimmer than our 2001 • Unisex size – women may prefer to order one size down.

View a man in this unisex style.